Whatever you say about this season, it is certainly not without positives. We've seen young Barry Bannan really take his chance in the first team with a string of good performances. We've seen Dunne return to the level we saw from him 2 years ago, again with a series of committed and driven performances. We've seen Shay Given excel between the sticks with some excellent goalkeeping. But the biggest positive this season has been the resurgence of one Gabriel Imuetinyan Agbonlahor.

Gabby starting to silence critics

To say Gabby had a poor season last year is underestimating it somewhat. Just 3 league goals in the campaign, for a striker that's poor, especially a striker of Gabby's qualities. Admittedly being on the wing and being expected to provide for the other players isn't quite to Gabby's strength but even so. He knows as well as we do that that is his worst season with us. Although he still managed to score some vital goals, such as the winner at West Ham which effectively eased Villa's relegation fears.

Gabby celebrates the winner at West Ham

Many people have told me, and other Villa fans how poor Gabby is as a player, how overrated he is, how he has little or no technical ability whatsoever, and how calls for him to be in the England squad are ludicrous. I disagree. On all four.

Firstly he isn't a poor player. Poor players do not fight through a PL teams academy, establish themselves in the first team there, and then become the clubs current longest servant by dint of being poor. Especially not at an established Premier League club like Aston Villa. Another remarkable feat he is close to achieving is the mark of 61 Premier League goals, which is 1 more than one of the best strikers to ever be at Villa, Dwight Yorke, achieved. Gabby is currently on 53 league goals, and at this rate, Yorke's record will be broken soon. He's not a goalscoring phenom, but he is a good goalscorer, and if he is a poor player, I'm sorry, there's not much hope for a lot of other players.

Secondly, the issue over him being overrated – in my opinion, he is completely the opposite. Very underrated. Players seem to feat playing him more than fans do. And understandably so, even after bulking up he is frighteningly fast. John Terry, for all I do not like him, summed it up for me. "He's a nightmare to play against" said the Chelsea captain. And I agree, I can see why Terry thinks that, the last thing a central defender wants is a lightning-fast striker running at him. Nemanja Vidic can also attest to this, with a series of performances against Gabby where he has been lucky to stay on the field, most notably in the 2010 League Cup final. If not for the (in many frustrated Villa fans eyes) amount of extra protection Vidic seems to get from officials against us, he would be sent off a good amount. Similar to when Torres was at Liverpool, Vidic always seemed to vastly struggle and would end up being dismissed. Also considering how many say Gabby is poor, how does that make him overrated? Surely that would be if the general consensus was that he was a cracking player and he wasn't? Cracking player, maybe not. Overrated, not. Dangerous player, certainly.
Vidic struggles to come to terms with Gabby

No technical ability – this is one I particularly take issue with. Let me just establish, Gabby is not a flair player. His strength his running and causing chaos between the defenders. He likes to get his head down and hare through the opposition half. Gabby, in the general opinion of Villa fans, is a lovable, but slightly dim person. He's a great bloke for us, but not massively intelligent. (not that he is expected to be – he's a footballer) He's not Messi, he's not Di Maria, he's not Young, he's not Silva, he's not x, y or z player either. His technical aspect of his game isn't his main strength. But he is certainly not lacking greatly in it, as anyone to visit Villa Park for our league wins will corroborate. His goal against Blackburn was a work of art but it generally was ignored by the media. (which we expect, we aren't a big club) He tied Michel Salgado in knots before cutting inside and curling an absolute pearl around Robinson and in from out wide. The fact it was his 50th league goal of his Villa career just made it that bit sweeter. Against Wigan he generally ran the game (aided and abetted by Bannan) and constantly tore Wigan "a new one" with clever running and lovely angled shots, which would surely have been a hat-trick and then some had Al-Habsi not had a tremendous game in goal. One of my favourites was when he was at a very sharp angle to the goal almost at the byline, swivelling and sending in a shot which Al-Habsi just about kept out. He has ability in those feet. Not a silly amount, but he's got enough.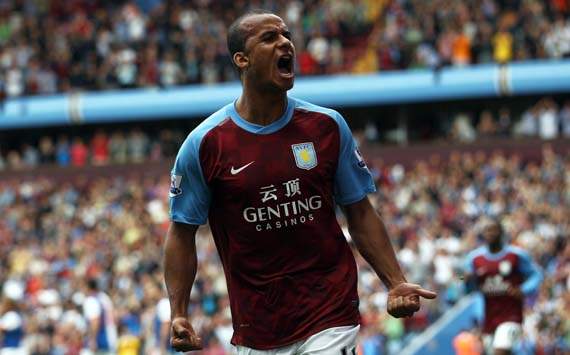 Gabby celebrates his landmark 50th goal vs. Blackburn
Lastly I disagree with the opinions of those who state he is not good enough for England. I'm sorry, but if Andy Carroll (who recently scored his first league goal for 12 hours, and has not impressed for Liverpool in his time there) is worthy of a call up, then Gabby is more than worthy. In my opinion, the four fit, on-form England strikers would consist of Rooney, Gabby, Andy Johnson and Daniel Sturridge, all of whom are showing excellent levels of confidence in front of goal. It's quite simple, if you're good enough, you're good enough. Also considering the amount of players that get into the England squad on their club quality such as Phil Jones and Cleverley, who talented as they are, were picked clearly on the fact they play for United, as for United they hadn't yet shown a good level of consistency and performance over a good amount of time. Also the likes of Smalling (a centre back) picked to play ahead of Micah Richards (a right back – and IMO the best England have at the minute)

merely accentuate the point. Gabby is certainly deserving of an England call-up, and his inclusion (and subsequent self-imposed exclusion from) in the squad is merited.
I don't think there is a single Villa player at the club who is as consistently valued and cherished as Gabby by the fans – his scoring record in the Second City Derby may boost this, as well as being a local lad – but at this moment in time, he's our most important player. He scores, he assists, and he busts a gut for Villa.

And as we've seen, he's not just a man worthy of respect on the pitch, he is as well off it. To add to his lack of drinking (he's teetotal) and his non-existent appearance in tabloid headlines for "nights out" (unlike some other England players) he also helps out with charity events when he can and recently donated out of his own pocket. I can't help feeling he wants to help give back to the community, and fair play to him for doing so. And doing so quietly, he doesn't really like to talk about donating. I think it's fair to say you can tell the high esteem I hold Gabby in.
Gabby visiting Acorns with Albrighton, Bent, Cuellar and Delph
But even after all that is said and done, can Gabby maintain this form on the pitch? I think he can. His confidence is high, his speed to physicality ratio is as balanced as it's ever been, and he's got Bannan feeding him delicious passes down the wing and through the centre. If only Villa could get the wings working again for Bent's benefit! If that happens and the current supply is also maintained (or improved) Villa could have one of the most frightening frontlines outside the top 4. A striker who is the king of poaching and the demon of speed with a penchant for having a shot. Whatever you think about Villa's future, to say it is without any hope, is wrong.