I've loved Formula 1 since I was little. I'll always remember Mika H
äkkinen grinding to a halt whilst in the lead in the Spanish GP, and Luciano Burti's flip at Hockenheim in 2001.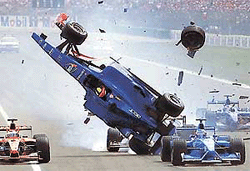 Luciano Burti - Remember this?
However this is all slightly less fun these days ever since in-race fuelling was scrapped. I mean, keep DRS and KERS etc by all means, but for the love of Ayrton Senna can we bring back fuelling?
Races are so much better with it, adds another factor to the racing, and on a tough-to-overtake circuit a certain car can't park in front of another for 57 laps because you can't overtake safely.
Not only are drivers having to adopt different strategies to each other, there's always the chance there'll be an almighty cock-up in the pits where someone will leave the hose in.
In other words, please lets bring back fuelling,
Back to this years events anyway. Vettel is storming away with it, (Zzzzzzzzzz) winning pole after pole, and no-one has got a good enough car to catch him. Except Webber whos driving fairly poorly in comparison. In other words, there's no competition, and it's all getting a bit dull.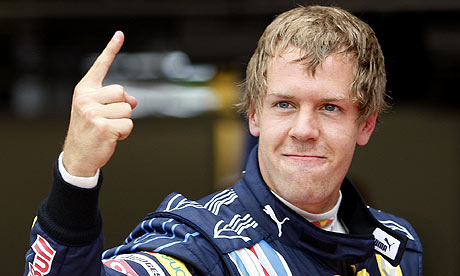 Can anyone catch Vettel? Please?
Formula 1 isn't boring at all, there are some fantastic characters in F1, the precocious genius of Alonso, the over-competitve skill of Hamilton, the great yet efficient ability of drivers of Massa, Webber, Button, the likes of Kamui Kobayashi, Nico Rosberg, Jaime Alguersuari, Vitaly Petrov et al and of course the boringly efficient and smooth-running German, Vettel, but if Vettel keeps winning and winning etc, I can see the interest in Formula 1 as a competitive motorsport will be reduced, as I can only see Red Bull getting stronger. I'll continue to watch, (naturally, as will the majority) but I sincerely hope the gap between Red Bull and the rest of the pack from now on keeps reducing, and that "who will win" factor comes back. Maybe the reintroduction of refuelling could aid this.