Manchester City, Manchester.
Arch-Rival - Manchester United.
Nickname: The Citizens.
Founded: 1887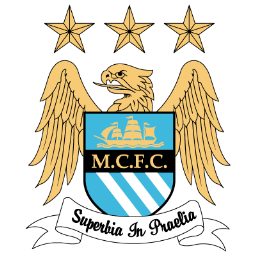 Manchester City
The quickfire interview was done with Claire, @foolsgold_ on Twitter.
Q1. What expectations do you have of your club this year?


"I expect us to be challenging for the title and go far in a cup competition. I'd love us to get to quarter finals of champs league."
Q2. Which match defined your team last season? 
"either fulham away or utd in semi final.. Fulham we played well as a team, passed the ball and at times it was barca like. In the semi we shown our defensive strength as well as our attacking flair." 
Q3. Who do you tip for relegation from your league? 
"To be relegated I see norwich maybe struggling, wolves need to up a gear to stay up and if villa don't get the right manager they could be in trouble." 
Q4. Which player would you realistically like to sign?
"I'd love us to sign modric or fabregas as we need to bolster our midfield. Were not as strong when silva is out!" 
Q5. Which of your players will have a point to prove this season? 
"Could be either of dzeko or balotelli, especially with the uncertainty of tevez' future, they need to prove they can contribute to our goals tally." 
Q6. Who are you most looking forward to playing? 
"

I can't wait to play liverpool as their fans seem to think as they have spent on average players they can win title. Plus we need to get them back for the horrendous game we had at their ground this season

"

Q7. What team do you hate playing? 
"Absolutely hate playing everton. They are our bogey team and we can't seem to get a result off them." 
Q8. What ground do you look forward to playing at most. (Away league games only!)

"

I can't wait to go to swanseas ground, a welsh team in the prem is a good thing."

Q9. Do you look out for any other teams in the league? If so, which one(s)?
"

Always look out for teams we are challenging against. And I have a soft spot for wolves due to our family friends being fans.

"

Q10. Do you have any match superstitions?
" Match superstitions are that we have to park in the same place and buy a programme from same guy. Also my nelly young scarf has been a good luck charm last season. Fa cup win and finished 3rd." 
Q11. Sum up Manchester City FC in three words.
"Three words to sum up city.. Unpredictable, loyal, amazing" 
Q12. Favourite City player of all time?

"

Paul Dickov. My childhood hero!"

Q13. How will you fare in the cup competitions?
"

We should do well in cup competitions. I'd like to go a distance in champs league if we get a good run.

"

Q14. Name three things you could improve to do with Man City. (Money excluded!)
"

Things to improve, get the atmosphere back from maine road.. Change the family stand back to what it was and also look at some of the stewards who have let power get to their head.. Had a few problems with them last season.

"